The Pitch
We realized we haven't blogged in a month! One of us had a baby while the other was in Germany over that period, so we think we're excused. During our "hiatus" we decided we should cap off the busy summer festival season by attending our first Montreal Oysterfest (what other food blogger wouldn't?).
The Mood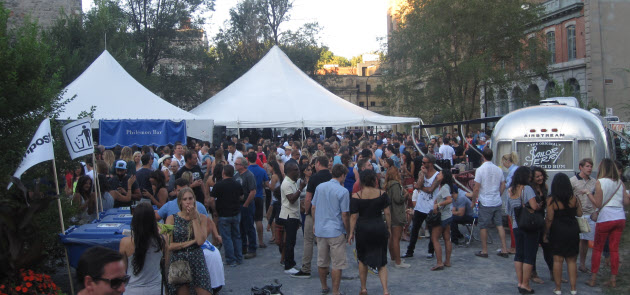 The festival basically consisted of a bunch of tents set up around a parking lot. The crowd was mostly anglo-hipster, with a few douchebaggy exceptions here and there. The event did sell out, but fortunately the venue wasn't overly-crowded. The mood was pleasant and festive for the most part.
tagged: ANGLO CROWD HIPSTER SCENE PAAARTAY!
The Food
As expected, the raw oyster bar was the "guest of honour" and had the longest line-ups. The food we got to sample was mainly seafood-oriented, and there were a few fried desserts. We bought the $35 ticket which included two food/drink tickets usable in any of the booths, then had to purchase more tickets for food and drinks at $5 a pop (a decent value).
tagged: GREAT VALUE
The Service
We arrived midway into the schedule, and were disappointed to find out that a number of food stands had already sold out, such as our good friend Antonio Park's PARK stand and the Grumman 78 stand. Asides from that, the festival's organization was alright; there were only a couple lineups at the food ticket stand and at the oyster bar.
tagged: WE'RE OUT
The Verdict
Our first year at the Montreal Oysterfest was fun. We enjoyed sampling the restaurants' creations but thought the entertainment (Bloody Caesar competition, oyster shucking contest…) was a little lacklustre and could use improvement. We recommend you check out the food stands in the future, but don't cancel any party plans to stay there too long (we ended up going to Terrasses Nelligan afterward).
tagged: PLAN B.
Price per person: $35
Brit & Chips
433 Rue McGill
H2Y 2H1
514-840-1001
britandchips.com