The Pitch
There is a certain breed of steak-frites restaurants pioneered by the de Saurs family in France operating under the Relais de l'Entrecôte monicker. Specializing in and serving one main dish – a steak with fries in a butter-based sauce – the concept has spread across the world, with Montreal receiving its own incarnation in 1991 named L'Entrecôte Saint-Jean.
I personally never understood the popularity behind this tried-and-tested formula, even after trying it in Paris, Riyadh, Beirut and Montreal. In my book, a good cut of steak need not be drowned in sauce, just as fresh, quality sushi can be overshadowed by excessive soy sauce. My opinion aside, the news of L'Entrecôte Saint-Jean's closure after 29 years in business was met with sadness and disbelief by its loyal patrons.
One of those lamenting its loss is restaurateur Thomas Vernis of the Tomahawk Group, who decided to continue the entrecôte tradition by establishing his own take on it. Open since November of last year next to Le Vin Papillon on the restaurant-dense stretch of Notre Dame Street, Mignon has had no trouble filling its scarce seats.
tagged: BETTER RESERVE
The Mood
Taking over the small space previously occupied by the Meloche 27 casse-croûte, Mignon did a fine job of recreating an intimate, retro vibe. Drawing inspiration from old-school Parisian bistros, the interior features checkered tiling, red velvet upholstery, marble tabletops and wood-panel walls.
If this description makes the mood sound stuffy, it is anything but that. The crowd is composed of young urbanites, the music is upbeat and the vibe is pure fun.
tagged: CLAUSTROPHOBIA ANYONE?
The Food
When Mignon first opened, its menu listed the prototypical Entrecôte three-course meal starting with a choice of soup or salad, the steak as a main and dessert, all for $39. At some point, the price was bumped up to $45 and the dessert was dropped – let's blame inflation.
There are also a handful of amuse-bouches listed on a chalkboard which change regularly and a vegan substitute for the steak (why?). Refreshments consist of a nineties-evoking martini list and privately-imported wine bottles of the natural, organic and biodynamic designations.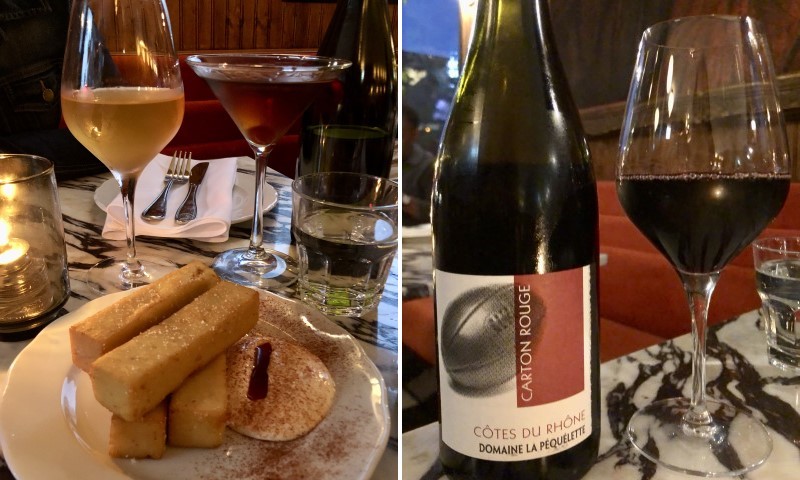 We started off with a basket of sliced baguette next to irresistible salted butter and complemented that with uber-fluffy and scrumptious panisse – chickpea polenta – sticks served with mayo and chili oil. The included cream of carrot soup and green salad – we got one of each – were basic but worthy of a table d'hôte. As for the main attraction, the steak-frites, I am disappointed to say it was forgettable.
The meat – a boneless rib of AAA Angus grade – was overcooked; my medium-rare order came with a barely-visible pink strip at the center. The "secret" sauce follows the traditional café de Paris herb-and-butter formula, but alas it fell flat for me. The fries, however, were thin, crispy and tasty. A cheesecake topped with blueberry puree was also fantastic thanks to a rich, smooth texture and sweet, tart flavor.
tagged: ORIGINAL DRINKS TABLE D'HÔTE
The Service
A collective of three staff members which may have included a manager took care of our table tonight. While I could not reproach any one of them for anything in particular, I felt there was a lack of continuity throughout my visit.
Otherwise, they blended professionalism with friendliness, consulted us on wine pairing and let us taste a couple vintages before making a choice. Near the end of our meal, there was a prolonged bout of absenteeism, which was irksome but forgivable.
The Verdict
While I normally avoid making my mind about a restaurant from a single visit, given Mignon is really a one-trick pony, I feel a verdict is warranted. And while I loved the amuse-bouche and dessert, i.e. the extras, the table d'hôte itself fell short for me.
I can also commend this bistro for its décor and ambiance, and for honoring the legacy of L'Entrecôte Saint-Jean; but its bread and butter, the steak and sauce, need to be better. In conclusion, as I stated before; I never embraced this concept, and tonight did not sway me.
tagged: PLAN B.
Price per person: $45