The Pitch
Pastry shops specializing in a single item have ebbed and flowed throughout the last decade and more. Cup cake shops gave way to ice cream parlours and doughnut shops. More recently, these single-SKU concepts have diversified further into waffles, croffles (croissant/waffle mashups), poffertjes (mini Dutch pancakes), tulumbas (Turkish churros) and more.
As of 2020, we also got Bomboloni Boss, named after the Sicilian/Tuscan version of a doughnut. The family-run business went from a home kitchen to operating out of the Table 51 restaurant in the Rue des Jockeys strip mall before morphing into its own location next door last summer. Given the car-friendly setting, the young pastry shop lends itself more to takeout orders, which is what I came for today.
tagged: TAKE THE CAR TAKEOUT
The Food
Bomboloni are fried dough patties, filled and rolled in sugar, and are so named due to their grenade-like shape – bomba meaning "bomb" in Italian. Those are sold by the unit, half dozen or dozen. I opted for the latter, to try several of their fillings, which vary from classic custard or chocolate to original creations such as red velvet, dulce de leche or Ferrero Rocher.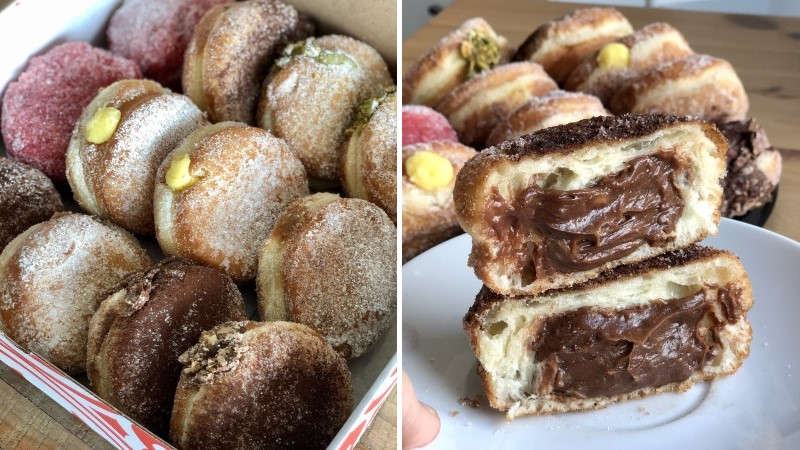 The six variations I sampled were molto bene, featuring a fluffy dough and rich fillings. Soft, light and not overly sweet, these "grenades" were oozing and – dare I say – explosive! Asides from the star attraction, the Boss also serves doughnut twists, ciambelle – a variant with a hole – and coffee.
The Verdict
With most pasticcerie in town concentrated around the Little Italy area, the Bomboloni Boss is breaking the mold and succeeding at it. Their pastries can now be found at various Italian caffès, while they expanded with a West Island location earlier this year. In addition to recently introducing salty bomboloni with bacon and egg or prosciutto and mozzarella, who knows what else is up their sleeve?
With a product this good, no wonder this concept is blowing up!
tagged: SOLID