The Pitch
The pair of us started exploring our city's dining scene in the mid-90s. Back then, in order to eat well, we had to splurge, as cheap eateries consisted of chains, casse-croûtes or noodle joints. Things have evolved since with the likes of Icehouse, Satay Brothers and Sumac to name a few. Earlier this year, La Capital entered this "affordable quality" space with the promise of genuine, street-inspired Mexican fare.
The Mood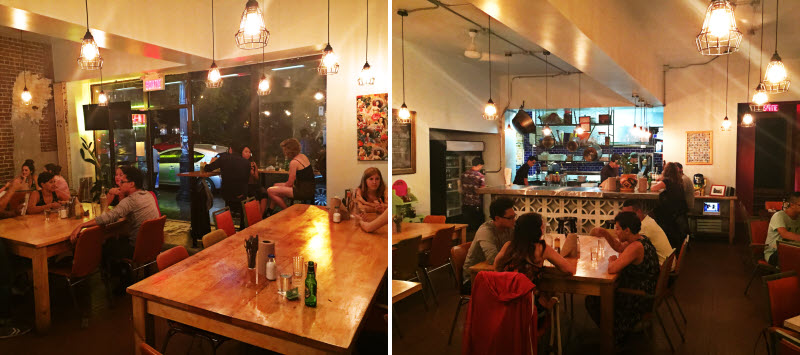 Set up on the busy stretch of Saint-Laurent boulevard in Chinatown just south of René-Lévesque West, this inviting taqueria counts a handful of large communal tables scattered across a laid-back, minimalistic space. With the warm, windy evening outside and the large entrance doors left wide open, there was a pleasant, almost tropical aura lacing the half-full dining room.
The Food
The concise, to-the-point menu lists six starters/sides followed by five tacos. The former are fairly small (although priced accordingly), so you might want to order a bunch. The tacos, on the other hand, are served in threes, providing good bang for the buck and a nice sharing option. As for cerveja, the only option is bottled Mythos; a Mexican joint in Chinatown serving Greek beer, go figure!
The Service
Rounding up the laid-back, authentic experience at La Capital are young, informed, thick-Latino-accented waiters that were welcoming and accommodating; muy bien! Service was pretty quick, making this a good dinner option for anyone in a hurry.
tagged: IN & OUT
The Verdict
Our first encounter at La Capital was a predominantly positive one. We enjoyed the fun, casual feel and service, and were pretty impressed with the guacamole and shrimp tacos. We did, however, find fault with the rest of the food we sampled, which places us on the fence as far as a final verdict is concerned. That being said, this new taqueria is a welcome addition to the city's "low-cost" dining scene.
tagged: DESERVES A RETRY
Price per person: $15.33
La Capital
1096, Saint-Laurent
H2Z 1J5
514-873-5255
lacapitaltacos.ca