The Pitch
December is a wildly busy month for restaurants, as coworkers try to end the year with a memorable outing together. Bring-your-own-wines seem to particularly flourish during this period; with the lure of forgoing alcohol markups likely appealing to penny pinchers and cash-strapped employers alike. This year, a colleague of mine chose Verdun's Wellington restaurant – named after the street it resides on – for our annual departmental dinner.
tagged: B.Y.O.W.
The Mood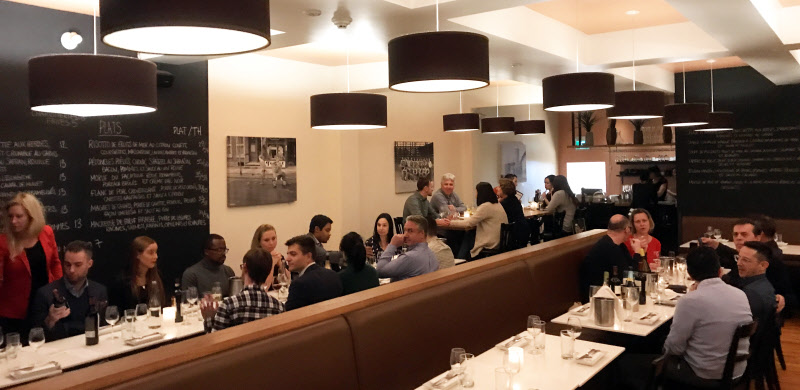 Opened in 2012, Wellington has earned a reputation among locals and critics as being a neighborhood bistro, although more polished than your typical BYOW. Tables run along both sides of a central row of banquettes in the bright interior featuring white walls and chalkboard menus. The dining room was half full for our six o'clock reservation, although it was not long before things got busy with every table getting nabbed by – you guessed it – large groups of coworkers.
The Food
The menu contains a handful of each of starters and main dishes with a table d'hôte option that adds an amuse-bouche, trou normand and dessert to the two courses. What comes out of the kitchen is standard but modernized and keenly-plated bistro fare.
tagged: TABLE D'HÔTE
The Service
Our waitress for the night was friendly, knowledgeable and efficient; the same can be said of the whole staff tonight, which seemed on top of things during the wildly-busy dinner service. My only reproach relates to her describing the table d'hôte as a "five-course meal". Let's not kid ourselves; it would be a stretch to call two of these a "course". Yes there was no intent to misinform, but we were still misled.
tagged: HUSTLE & BUSTLE
The Verdict
The principals behind Wellington are no strangers to the BYOW business, with several fine-dining establishments under their belt – including the previously-reviewed Le Smoking Vallée. Personally, I enjoyed the sophisticated ambiance and soigné proposition; however, a couple of dishes fell anywhere between short and flat. To wrap up, Wellington is good for a BYOW, but given the price point – $54 to $60 for a prix-fixe menu – I was expecting better.
tagged: PLAN B.
Price per person: $56
Wellington
Closed
3629 Wellington Street
H4G 1T9
514-419-1646
restaurantwellington.com