The Pitch
Although kebabs appear on a slew of Middle-Eastern restaurant menus, none have perfected these skewers of grilled meat as much as one Persian restaurant in particular.
Since 1989, Notre-Dame-de-Grâce's Tehran has set the standard in Iran's rich and ancient cuisine. Having been a longtime patron, tonight I picked up some takeout from this neighborhood gem to celebrate the first week of Ramadan with my family.
tagged: TAKEOUT
The Food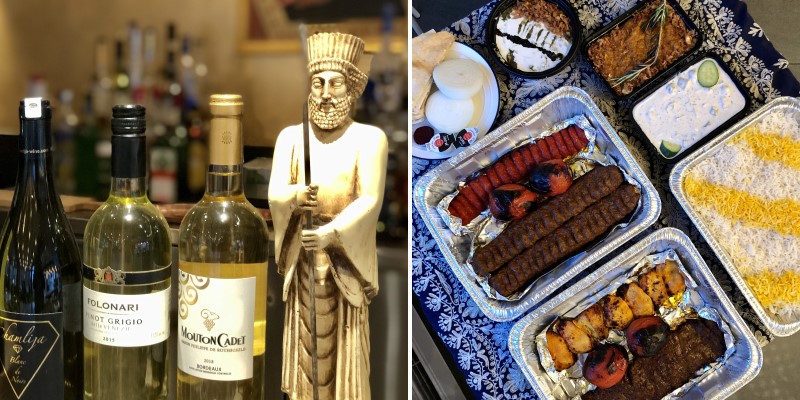 Tehran pushes a typical, animal-heavy menu comprising a soup, dips as appetizers or side dishes, skewers of grilled beef/poultry/seafood, stews and a couple of desserts.
The ash soup is hearty thanks to chickpeas, lentils and noodles; with beautiful flavours emanating from mint and goat's milk yogurt, and fried onions adding a crispy texture. Following that is a complimentary do-it-yourself kit of pita bread, raw onions, sumac and butter; a commonplace offering at Persian restaurants.
Main dishes consist of one or two brochettes served with basmati and saffron rice and a charred tomato. Prices have steadily creeped up over the last twenty years, but even $30 for some of the mains is well worth it. When placing my order, I ask for it "catering" style; this way everything is separated out into its own platter, which works better than individual plates when feeding a group.
I always compliment my meal with mast-o khiar, a luscious mixture of yogurt, cucumber and mint. The best way to enjoy saffron rice is by smashing the blackened tomato to let its juices run all over the grains, then top that off with the yogurt dip – you can thank me later for the suggestion.
As for the meats, I found the cubed chicken a tad dry, while the filet mignon was juicy and perfectly flavoured. The pinnacle of this meal, however, has to be Tehran's koobideh, i.e. smashed ground beef and chicken kebabs. These are so unbelievably tender, moist and well seasoned, they would make any vegetarian reconsider his/her lifestyle choice.
tagged: GOOD FOR SHARING WORTH EVERY PENNY
The Verdict
Over my first ten years in Montreal, the only Persian restaurant I knew, tried and loved was Tehran. In the following decade, I have expanded my horizons and attempted a handful of others: Chateau Kabab, Khorasan Kabab, Parisa… While each of these deserves some merit in one way or another, none of them come close to dethroning Tehran as the king of kebab.
From that rich soup and great dips to those succulent skewers of grilled meat, if anything deserves to be called "beyond" meat, it's this!
tagged: FAVORITE
Price per person: $32.33
Tehran
Closed
5065 Boulevard de Maisonneuve Ouest
H4A 1Y9
514-488-0400
restotehran.ca