The Pitch
For tonight's outing, my friend wanted a Portuguese chicken joint close to where I live, the Westmount/Saint-Henri area. Curiously enough, this side of the city seems to lack the iconic Montreal staple mostly concentrated in the Plateau district.
The closest thing I could muster up as a suggestion was SudWest Gyros, which was more of a Greek place but also made rotisserie chicken. Luckily enough, the Saint-Henri locale had several tables available for us on their curbside patio running down Greene Avenue.
tagged: CATCH SOME SUN NO NEED TO RESERVE
The Mood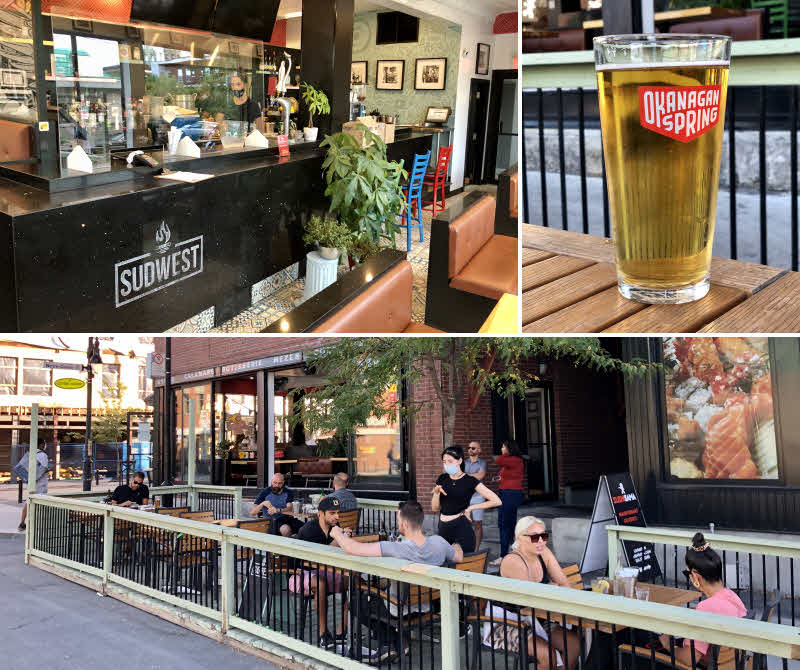 Opened back in 2014 under the name Sud-West Bar-B-Que, the Notre-Dame Street tenant was later rebranded in 2018 to its present form. The revamping was also accompanied by a total makeover.
The fast food-style interior gave way to a busy aesthetic making use of a varied color palette and patterned surfaces. Rounding out the ambiance was a bumping soundtrack of 90s hip-hop blasting out the large open windows and thankfully audible from the terrace.
tagged: GROOVY TUNES
The Food
The SudWest menu is a significant departure from what I ordered for takeout prior to the transformation. The rotisserie chicken remains, but the BBQ/grill fare was replaced with Greek specialties, central among which are gyro sandwiches and plates.
To accompany this, there are selections of calamari, mezzes, fries and poutines. All the above comes in classic form or souped-up using international touches such as Portuguese piri-piri, Jamaican jerk, Latin guacamole, etc.
Starter
Starter
$13.50
$13.50

Calamari
Tasty and tender rings were encased in a crispy but slightly over-salted batter. A squirt of lemon was all I needed; I tend to ditch the sauce when squid is this good.
Main
Main
$19
$19

Piri-Piri Rotisserie Chicken
A whole spit-roasted bird came broken apart and generously basted in a mild piri-piri sauce. The meat was juicy but could have benefited from more flavouring and heat.
Main
Main
$12
$12

Classic Chicken Gyro Plate
A colorful and well-balanced dish partly disappointed due to sub-par fries and weak tzatziki, but was fun to devour nonetheless thanks to fluffy pita, tender chicken slices and bright salads.
The Service
Since the imposition of the law to wear face masks indoors, restaurant waitstaffs have been putting up with a lot. Not only do they have to wear them during their long shifts, they also need to remind every patron – willing or not – to don their own when entering the premises.
The duo of young ladies onsite did a fine job of directing customers to the patio, where – thankfully – the masks could come off. Service was friendly and quite speedy, despite the constant flow of Uber and DoorDash drivers dropping in for delivery orders.
tagged: IN & OUT
The Verdict
As a sit-down restaurant, I thought SudWest makes a fine neighborhood grub hub. Their pan-Mediterranean-and-beyond fare is satisfying, if imperfect here and there; while the setting has a certain charm to it.
Otherwise, I can easily picture this concept thriving as a delivery/takeout option. Since the COVID-19 lockdown, full-service picnic baskets have also been introduced and seem quite intriguing. Check out #PICNIKATWATER on Instagram for more info.
tagged: PLAN B.
Price per person: $22.25
SudWest Gyros & Co.
514-783-9378
sudwest.ca