The Pitch
Our random restaurant picker found us stepping into Old Montreal's Stash Café on this breezy Wednesday night. We only tried this longstanding Polish eatery once over a decade ago, so a return was in order.
Our eternal search for a parking spot caused us to show up thirty minutes late for our 8:30PM reservation. Luckily the Saint-Paul Street locale was only about half full, so the prospect of losing our table was off the table.
tagged: DITCH THE CAR NO NEED TO RESERVE
The Mood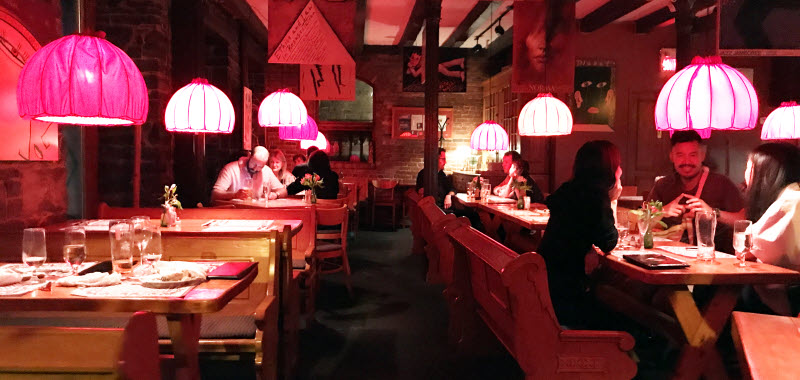 Red pendant lights, church pews and suspended art work combine for a dramatic effect. Luckily the pianist – a fixture here – was playing jazzy renditions of pop/rock classics from Scorpions, Cyndi Lauper, Green Day and others to lighten up the heavy mood.
tagged: LIVE MUSIC
The Food
You'd better enjoy beets, cabbage and sour cream because you won't be able to avoid these Eastern European cornerstones here. Staples such as pickled herring, pierogis and stroganoff are followed by a prix fixe option, classic cocktails and both European and domestic ales.
A hearty cuisine notorious for its one-dimensional flavor profile delivered on promise. A Polish variant of borscht – beet soup – and beet salad dazzled; the rest was expectedly high on comfort, low on seasoning. A dash of salt here and there wouldn't hurt.
tagged: FOCUS ON BEER
The Service
Not much can be said about the staff here. The hostess promptly seated us, while our waiter took down orders and came back with drinks and plates expeditiously; all with very minimal interaction.
The Verdict
Stash Café has been around forever, and is not likely going anywhere. The great location, kitschy vibe and stick-to-your-ribs food will always appeal to a certain segment of tourists and locals alike.
On a personal note, we won't be rushing back to this spot whose only cardinal sin – in our bible – is serving (unexciting) Polish cuisine. The kitchen sure knows how to churn out some mean beets though!
tagged: PLAN B.
Price per person: $25.50
Stash Café
200 Saint-Paul Street West
H2Y 1Z9
514-845-6611
restaurantstashcafe.ca