Disclaimer: This meal was comped.
The Pitch
It seems seafood boils are having a hard time surviving the Montreal dining scene. The Captain's Boil closed both of its locations and L'Asie Resto-Bar followed suit, all pre-pandemic so we can't blame COVID-19 for that. Filling that void is Seau de Crabe, which has been serving Laval with steamed bags of shellfish for a little over a year.
Following their success north of the Prairies river – and an expansion to Dubai of all places! – the team behind this brand have just added a location in Pointe-Claire. Open in soft mode since a week ago, the West Island newcomer hosted an influencer event on this Saturday afternoon, which I duly attended.
After finding an easy parking spot in the quiet Sources Boulevard strip mall, I immediately noticed Seau's neighbor: a SQDC outlet. I could not help but ask myself which of the two substances on sale here are more addictive: seafood or cannabis?
tagged: MEDIA EVENT SOFT LAUNCH TAKE THE CAR
The Mood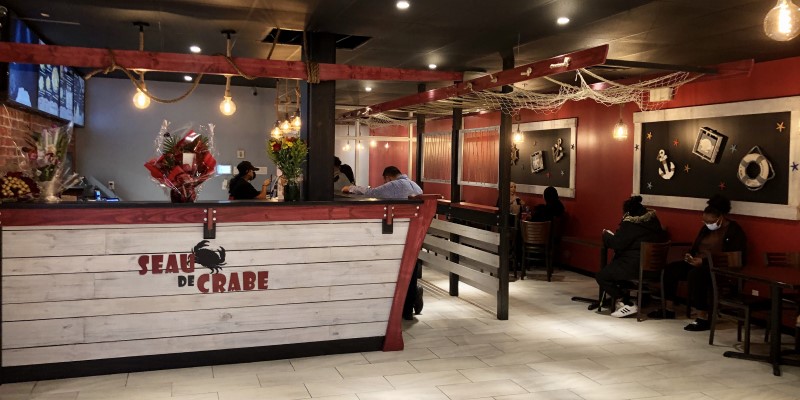 The L-shaped interior is given a dramatic fisherman's feel thanks to charcoal ceilings, dark red walls and hanging fishing nets. Lightening up the décor is a mural cartoon depicting a ship manned by shellfish pirates.
The place was boisterous this evening; between the invited influencers and families with their kids dining on site, the mood was noticeably intimate and celebratory.
tagged: BRING THE KIDS
The Food
Seau de Crabe specializes in Louisiana-style seafood boils, which consist of boiled shellfish mixed with a seasoned butter sauce in a plastic bag. The process ensures maximal coating of the ingredients, which also include corn on the cob and potatoes.
Consuming all this is a messy and communal ritual. The table is lined up with a large sheet of paper and diners are given bibs, gloves and heaps of napkins. The plastic bags are then emptied table-side into metallic plates (buckets). This entire setup encourages eating with one's hands, manually cracking shells, licking fingers and ditching any sense of decorum.
Seafood choices include shrimp, mussels, crab and lobster. Fried options are also available for shrimp, calamari or fish 'n' chips. Personally, I enjoyed the boil experience more; there is something ultra satisfying in sucking off crab legs and shrimp tails imbibed in uber-garlicky Cajun broth.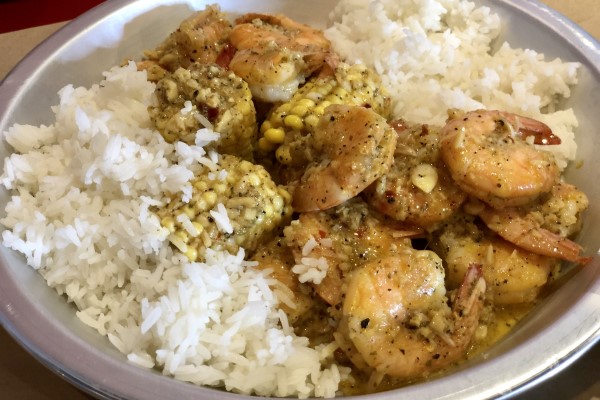 $27.90
$27.90

Shrimp Bucket
$39.90
$39.90

Snow Crab Bucket
$16.50
$16.50

Fried Calamari
tagged: GOOD FOR SHARING TOO MESSY
The Verdict
Seau de Crabe's location in a residential neighborhood makes perfect sense, given how well a seafood boil lends itself to family-style eating. Considering this West Island offshoot is a second location (third if we count Dubai), not to mention the steady flow of drivers picking up takeout orders tonight, business seems to be on the upswing for the brand.
Here's to wishing this seafood boil concept will reverse the trend and stick with us for a while…
Price per person: $37.15