Disclaimer: Although I possessed a media pass for the Osheaga festival, I visited the food kiosks anonymously and paid in full for all food and drink.
The Pitch
As a fan of live music, what privilege is it to live in a city which hosts one of North America's premiere summer festivals. Now in its 13th edition, Montreal's Osheaga has slowly grown from an alt/indie gig to a massive affair cutting across all genres and drawing acts from local talent to the biggest stars of the moment.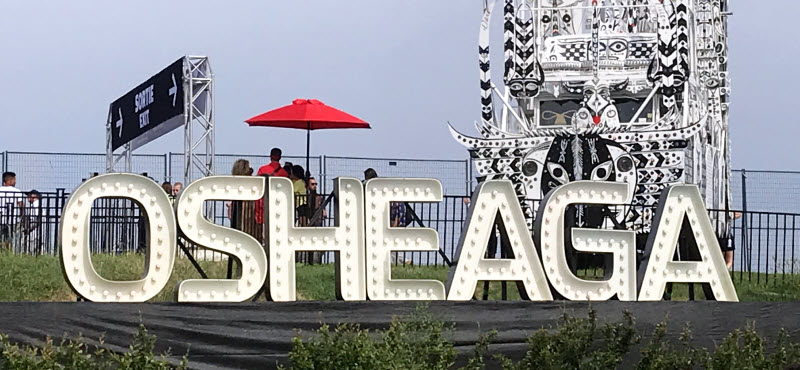 Having attended the fest several times – but not since 2012 – I thought a return was in due order. Not only did I find a four-performance stretch in the Friday schedule which suited my musical taste; but for the first time since Osheaga's debut, the food offering has been expanded with a YUL EAT Garden section. The promise of elevated festival fare seemed like a good occasion for a follow-up review.
The Mood
The day's cloudy forecast promised a respite from this unusually-hot summer. The covered sky did shield festivalgoers from the scorching sun, but the humidity was still felt. This was evident from the endless lineups at water refill stations as well as attendees taking advantage of soaking fountains and shaded rest areas. The festival has grown in scale since my last visit; the sheer size of the venue is overwhelming in of itself. Between the six stages, various food and entertainment zones, be ready to do a lot of walking!
There is also a much stronger corporate presence than before; the official title alone – Osheaga Music & Arts Festival presented by Bell Alt TV, in collaboration with Coors Light (that's a mouthful) – bears testament to that. Between the Bell TV watching area, Monster Energy barbershop, Little Burgundy shoe cleaning station and Batiste dry shampoo pop-up, it all feels like a giant, gimmicky product placement campaign.
And if – like me – you need a break from Hawaiian shirts, flower crowns, glitter roots and other ridiculous millennial festival fashion trends, you would do well to take advantage of the Osheaga Terrace and/or Platinum viewing platform. Although access to them comes at extra cost and they situate you at a fair distance from the main stages, I did appreciate the extra breathing room, slightly-older crowd, reserved bar and real, physical toilets – no porta potty!
tagged: FEELS LIKE A SAUNA
The Food
As with every Osheaga edition, food and drink options were aplenty! Scattered throughout the site were several pockets of junk food stands serving anything from burgers and hotdogs to pizza and gyros. Next up you will find more interesting choices from food trucks such as Le Cheese, Mandy's, Le Smoking BBQ and BeaverTails. Drink choices also abound with a dominance of (ugh) Coors beer, but also Perrier, Jack Daniel's and Bacardi-themed huts.
Finally, the pièce de résistance for this year, a zone reserved for a more gourmet experience: the YUL EAT Garden. Here you will find larger kiosks with seating from five local restaurants – Kampai Garden, Lavanderia, Foodchain, Grumman 78 and Nouveau Palais – as well as craft beer truck Le Trou du Diable. Popularity seemed to vary from one booth to another, with Nouveau Palais boasting the longest queue – who doesn't love a good burger? Not one to stand in line, I opted for what looked like the quickest options:
$10
$10

Tofu Teriyaki Bowl from Kampai Garden
Sloppy blobs of tofu and veggies were tossed next to a clump of rice. The gooey texture, lack of taste and meager portion were certainly not worth the $10 charged.
$8
$8

Kalbi Meatball Sandwich from Lavanderia
Now we're talking! A hot dog of sorts came loaded with deliciously-sweet-and-savory meatballs and topped with fresh, crunchy coleslaw and crispy fried onions.
The Verdict
I know it sounds like I'm complaining a lot in this recap; the reality is that I'm a grumpy guy nearing middle age reminiscing of the first Osheaga I've been to in my twenties. Yes I was younger, the vibe was indie and (dare I say) more "authentic" back then; but that's what happens to any success story. The festival has expanded considerably, attracting greater names, selling more tickets and drawing bigger bucks.
All of that comes with a multitude of food and drink selections that are bound to satisfy most tastes, just as the explosion in artist lineup and musical genres is meant to please as wide an audience as possible. At the core, Osheaga is a celebration of music and is doing a fine job of that; the rest is just noise. Rock on!
tagged: SOLID
Price per person: $18
Kampai Garden
1616 Saint-Catherine Street West
H3H 1L9
514-379-6161
kampaigarden.com
Lavanderia
Closed
374 Avenue Victoria
H3Z 2N4
514-303-4123
lavanderiaresto.com