Disclaimer: The review below is a paid article in partnership with GOLO. However, the order was anonymously placed with the restaurant in question, which was not involved in the agreement.
The Pitch
It is no secret that food delivery services have drastically changed the restaurant industry. The ubiquity, practicality and choice offered by foreign giants such as Foodora, SkipTheDishes and Uber Eats have expanded the market like never before. A more recent player in this space is GOLO (TSXV: GOLO), launched by payment company Paysafe.
What makes GOLO different, you may ask? For starters, it is born in Montreal and employs a fleet of electric cars; meaning you would be supporting a local, environmentally-conscious startup. Ethics aside, GOLO also offers a wider customer value proposition than its competitors. In addition to the multitude of dining options on hand, daily essentials such as toilet paper, toothpaste and pet food are also one click – or tap – away.
tagged: WE DELIVER
The Food
To test the service, my wife and I opted for a couple of poke bowls from Ono Pokii. The one-year-old Westmount eatery suggests a BYOB – the last B standing for bowl, not beer – approach to the popular Hawaiian dish. Start with your base (white/black rice, quinoa, zucchini noodles or lettuce), add your protein (salmon, tuna, red snapper, shrimp, octopus, chicken or tofu), top off with myriad veggies and fruits and finally pick your sauce (sweet, sour or spicy).
Not feeling up to the challenge, we opted for two signature recipes; a Rainbow bowl with a predominantly hot umami flavour thanks to nori and a kimchi sauce followed by a Spicy Salmon poke hitting all the right notes with perfumed rice, edamame and mango. Oh, and those arrived perfectly composed, with every ingredient still in its original place.
$15
$15

Rainbow Pokii
"white rice, salmon, tuna, red snapper, octopus, shrimp, tobiko caviar, cukes, nori, sesame, apple, peppers & kimchi sauce"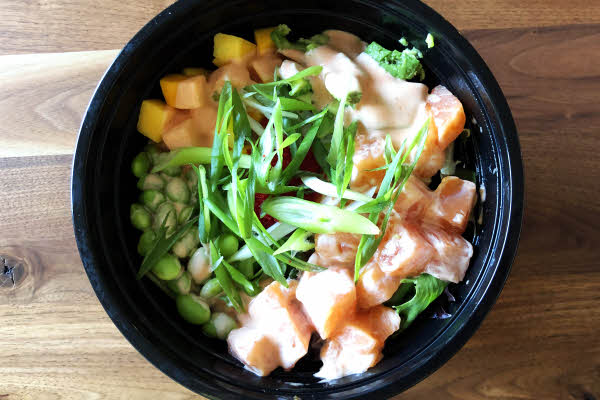 $14.25
$14.25

Spicy Salmon Pokii
"white coconut rice, spicy salmon, tobiko caviar, mango, edamame, shallots, avocado & spicy mayonnaise"
The Verdict
Given the competitive mobile ordering space in which it operates, GOLO distinguishes itself from its peers with its ecological responsibility, lower client fees and broader product offering. There's also a degree of professionalism, as drivers are GOLO employees in identifiable, branded uniforms. Add to that the promise of same-hour delivery – mine arrived in 30 minutes flat! – and your next meal or necessity is right around the corner.
For the really busy – or plain lazy – the GOLO app is available in both the Apple App Store and the Google Play Store.
Ono Pokii
4914 Sherbrooke Street West
H3Z 1H3
514-543-7654
ono-pokii-westmount.business.site