The Pitch
Formally known as Milton Park, the neighborhood lying north of Sherbrooke Street between the McGill University campus and Saint-Laurent Boulevard is more commonly referred to as the McGill Ghetto. During my McGill days and as a resident of the area between 1997 and 2004, dining choices were limited to student-oriented coffee shops, chains and fast food operations.
The first player to break out of this mold was Pullman, a stylish Park Avenue wine bar serving elevated tapas-style dishes. After more than a decade in business, the principals behind Pullman opened up Moleskine in 2016, on the very same block.
The Mood
Situated in a 1920s, Gothic Revival building, Moleskine is composed of two distinct areas, each with its own menu. A casual eatery on the ground floor features bar-height tables and an open kitchen, while the mezzanine upstairs offers a formal dining experience.
Designed by Bruno Braën – also a co-owner – the industrial-chic interior makes use of multiple textures and fabrics along with a mishmash of table and chair styles. Both floors were about three-quarters full on this Thursday evening; with a young-ish crowd sipping and eating the night away over a 90s soundtrack containing a few questionable tracks – I could do without the Backstreet Boys at this point in my life!
The Food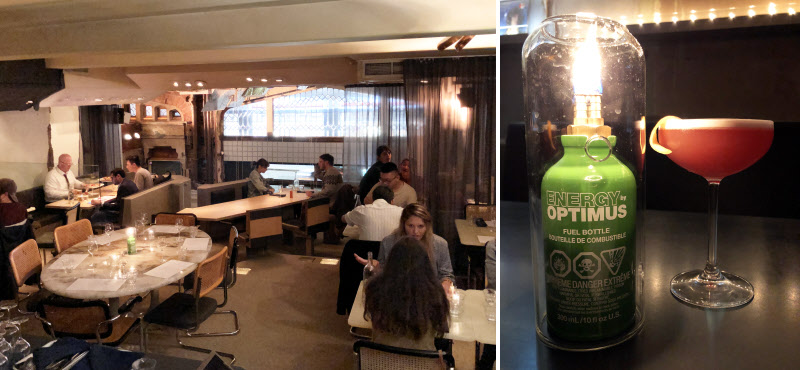 The upstairs menu consists of a prominent pizza list followed by a handful of choices for each of starters, mains and desserts. The wine list leans towards old world bottles while a short cocktail sheet features classics with an Italian touch.
The Service
Upon our arrival, we were seated at a table in the back, next to the staff's wine station and removed from the rest of the mezzanine. With the number of empty tables throughout the evening, I was a little surprised by this odd assignment. That aside, our waitress took excellent care of us; from going over the day's specials to helping us pick pairings from the wine list – which features many private imports.
The Verdict
In the year following its opening, Moleskine managed to wow the city's critics while making several of Eater Montreal's popular "best-of" lists. Add to that Pullman's longevity and the upcoming stand in the much-anticipated Time Out Market, and this group of restaurateurs will be around for years to come.
As for me, I could not arrive at a final verdict. Although I did enjoy the delicious food, it was hard to narrow it down as casual versus gourmet. I also was not able to get a feel for the place's ambiance from my secluded table. While a second visit is certainly warranted, there is no denying this pizzeria-and-more has a lotta pizzazz!
tagged: DESERVES A RETRY
Price per person: $32.50
Moleskine
3412 Park Ave
H2X 2H7
514-903-6939
moleskinerestaurant.com