Disclaimer: Apologies for the blue lighting in all food-related pictures; they do not do the restaurant justice.
The Pitch
For tonight's dinner, the same work trio of the Syrian, Egyptian and Tunisian from my last review had our eyes on a Syrian restaurant, in an effort to rotate across each of our mother lands' cuisines.
With the best options centered around the Ville-Saint-Laurent/Laval area, placing them a little far from our Pointe-Saint-Charles office, one of us suggested a lesser-known but closer candidate in Shaughnessy Village's Mirage Restaurant.
Whatever time we saved in driving was more than lost on searching for a parking spot in this busy, dense neighborhood. The streets' hustle and bustle were contrasted to the restaurant's quiet interior, which only counted our party upon our arrival just shy of 7PM.
tagged: DITCH THE CAR NO NEED TO RESERVE
The Mood
The restaurant's interior seemed to confirm we indeed landed on a Syrian eatery. The oriental decor is quite beautiful and elaborate, complete with horizontally-striped brick walls, a majlis, two ornate booths and Levantine artifacts throughout.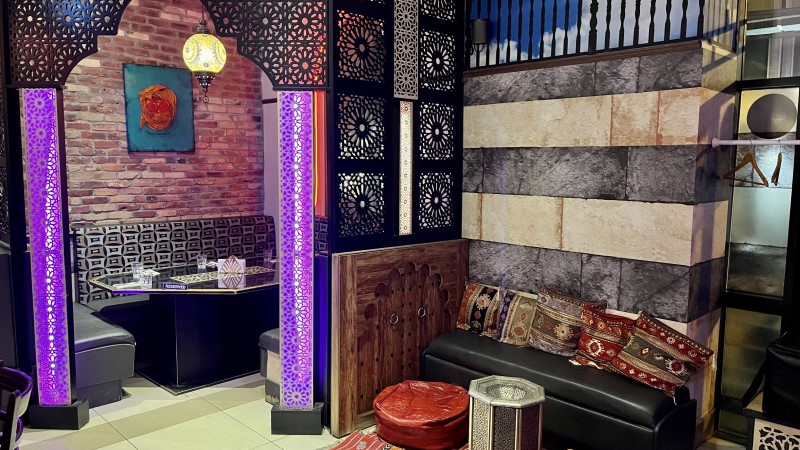 The level of detail evokes the one encountered at the recently-opened Abu el Zulof – also Syrian – on nearby Crescent Street, although Mirage has been around since 2017.
While we initially thought we would be alone and stumbled on a struggling restaurant, we were quickly reminded that Arabs are a late-dining – or late-arriving – people. It was not long before two thirds of the seats were filled by a Pan-Middle-Eastern crowd from Syria, Lebanon and Palestine.
tagged: COMMUNITY PICK
The Food
Was Mirage a Syrian restaurant in the end? With a varied menu covering all the overlapping classics shared between Lebanon and Syria, it's hard to tell, but also unimportant; we found what we came for.
What's perplexing about the offering – on top of the requisite salads, cold and hot meze, manakish and platters of grilled halal meats – is the presence of loads of foreign items such as Caesar and Greek salads, onion rings, burgers and subs.
A common tactic at similar restaurants back home; I fail to see the need or fit for it here. We obviously steered clear of those misfits, but alas even the homegrown stuff missed the mark.
The fattoush was low on pomegranate and high on toasted pita, the platter of pickles was sad, the ful was utterly tasteless and the skewers of taouk, kafta and kabab were dry and overcooked – although I did appreciate the chicken's Indian-like seasoning. To be fair, a couple of winners stood out. The mutabbal was near perfect while the home potatoes were lemony and exquisitely herbed.
tagged: GOOD FOR SHARING HALAL YOU MAKE ALL THIS?
The Verdict
Mirage self-describes itself as a Mediterranean restaurant, a vague and – in my opinion – irritating term, considering we are only looking at one of a dozen candidate cuisines falling under that umbrella.
Our hunt for a good Syrian restaurant in the city's core was unfortunately unsuccessful, judging from the average-to-subpar food we sampled, not to mention the forgetful service we faced – one order was entirely missed.
In the end, it seems this restaurant was more of a mirage than the real thing…
tagged: PLAN B.
Price per person: $36.50