The Pitch
The biggest storyline in the Montreal restaurant scene right before the COVID-19 pandemic hit has to be the arrival of the food hall – the glorified, less commercial version of your typical food court. Le Central, Time Out Market and Le Cathcart all opened within a few months of each other to much fanfare and acclaim by media and foodies alike.
Three years later, it is high time to objectively review those and not throw them a bone because they just launched, threw a media event or suffered during the lockdown.
My lunch destination on this Sunday was Le Central, simply because I was headed later to Le Salon du Livre in Le palais des congrès nearby. The proximity to the Saint-Laurent subway station would prove helpful, given that I left my car behind to avoid the construction mess around the convention center.
tagged: STEPS FROM METRO WEEKEND LUNCH
The Mood
I first and last ate at Le Central during its opening event in October of 2019. You can read about the experience in my review here, which will also give you the 411 behind the project. That was naturally a packed affair; today things would be different.
The hall was quiet around noon, but things slowly picked up after. The long picnic-style tables at the center of the hall were mostly nabbed, but lineups never formed at the 20+ stalls.
tagged: BRING THE KIDS
The Food
In the food hall wars, Le Central seems to be winning the battle when it comes to restaurant turnover. I only noticed one – at most two – kiosk changes since day one; whereas Time Out seems to be bleeding tenants constantly.
The diversity is still there and very representative of Montreal's ethnic communities, from poutine, pizza and Portuguese chicken to tacos, couscous and ramen. The price point is also more reasonable here, with many meals or combos costing below $20, whereas you can expect to cross that barrier at the competition.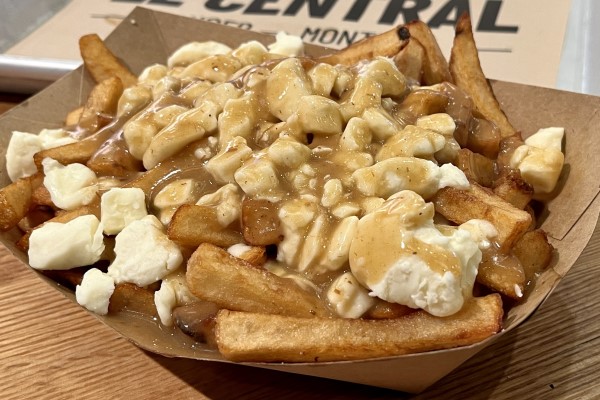 $13.99
$13.99

Poutine from Le Gras Dur
The folks behind my favorite food truck – Das Food Truck – are naturally still masters at their game, dishing out an excellent, prototypical poutine featuring crisp meaty fries, a light but tasty gravy and a mountain of cheese curds.
$18
$18

Fried Chicken Combo from Ho Lee Chix
Four small pieces of chicken were reddish – potentially undercooked – inside and were cased in a bland batter. I assume this was a rare misfire as I cannot picture this place surviving three years with this kind of output.
$18.95
$18.95

Ferreira Bowl from Cantine Emilia
One of the coolest-looking kiosks belongs to this Portuguese operation dishing out sandwiches, poutines and salads named after iconic Portuguese restaurants. This whopping bowl of rice and salad was generously topped with chicken and shrimp, then dressed with mayo and a spicy sauce. Aprovado!
The Service
Obviously, any food hall would love to draw the same crowds as Time Out Market. A visit there at noon is enough to see it may have fallen victim of its own success, with barely anywhere to sit, long lineups forming at stands and orders taking forever to come out.
At Le Central today, that was not the picture at all. While the hall was busy and lively, I had only a pair of customers ahead of me at all three counters I visited and did not have to wait long to receive my food.
The Verdict
Montreal's first food hall happens to be the least heralded and splashy of the three. The food caliber and offering are more-or-less equal across the lot, but I do find Le Central more affordable and less crowded. Its design and layout are also more inviting and colorful.
Yes, Time Out Market has that sleek modern look but I find it too dim and conformist, while Le Cathcart honestly looks like a slightly-nicer mall food court – I admit the immense skylight is a draw though. Le Central is the least centrally located, which is ironic given its name.
I for one still don't see the appeal of these halls beyond a quick lunch break during work hours or on the way to some other place, but I am relieved to seem them rebounding and prospering after their unfortunate, tumultuous start.
Price per person: $18