Disclaimer: This meal was comped.
The Pitch
As far as tourist havens go, few parts of town draw more visitors than Old Montreal's Place Jacques-Cartier. Long considered ground zero for tourist traps, the famous square has recently been the target of restaurateurs seeking to change this negative connotation and offer something which would appeal to out-of-towners and locals alike.
The Antonopoulos Group are a prime example of this – with BEVO, Maggie Oakes and the spanking-new Jacopo – but they are not the only ones. Today I was invited to sample lunch over at another participant in this effort: pizzeria-and-more Comptoir 400.
The Mood
The two-year-old restaurant occupies what is probably the most visible locale in Old Montreal, right at the corner of Rue de la Commune and Place Jacques-Cartier. It took over the spot previously occupied by longstanding Chez Queux after a forty-year stint.
The exterior space features three separate patios of fairly large size while the interior is a lot more cozy and intimate. The narrow dining room has a cavernous/storage room feel thanks to exposed stone walls and shelves carrying various Italian products from wine and beer bottles to olive oils and tomato sauces.
The Food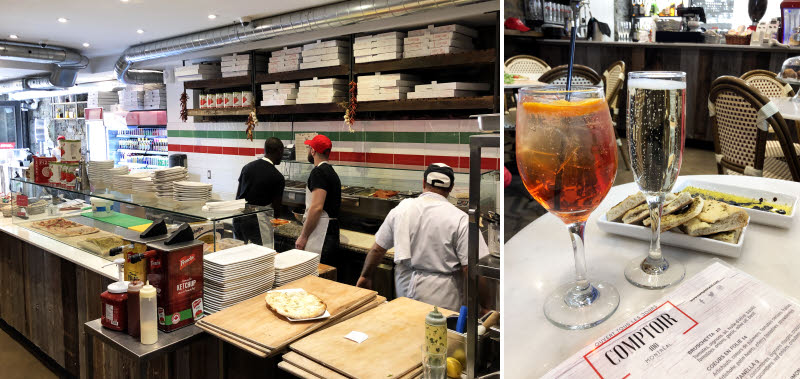 In addition to Italian salads and pizzas, Comptoir 400 offers random crowd pleasers such as nachos, wings and crepes. Drink options abound with wine served by the bottle or glass, cocktails, sangria pitchers and an ample beer selection – terrace seekers will be delighted! Finally, no Rue de la Commune operation would be complete without ice cream; to which Comptoir is no exception, serving up gelato for dine-in or on-the-go.
As for my take, I found the Caprese salad lacking in freshness, while the (oblong-shaped) pizza was just the opposite. Vibrant, abundantly-distributed toppings sat atop a tender but firm crust. I normally look for a more pronounced taste from the tomato sauce, but this was some good pie overall! Finally, the cannolis were a beauty; with crispy, light shells and a smooth ricotta/pistachio filling.
The Verdict
With its extended opening hours, inclusion in every delivery app, catering services and soon-to-debut DJ nights with bottle service, Comptoir 400 seems to be all over the place with its offering. But with a strong product to back and warm, family-style service, I would swap the term trap with magnet for tourists – and perhaps locals.
After years of coming up short when asked for dining recommendations on Place Jacques-Cartier, I can now confidently suggest: why not Comptoir 400?
Price per person: $32.50
Comptoir 400
400 Place Jacques-Cartier
H2Y 3W1
514-312-1318
comptoir400.com