The Pitch
With all the restaurant openings taking place, my "to try" list is lengthening at an alarming rate. Some entries will never see the light of day – I do only have one lifetime after all – except when someone else suggests them. Such was the case on this rainy Monday, as a friend of mine picked the Plateau's Chasse-Galerie for our dinner date.
Having opened on Saint-Denis Street two years ago, just as the popular thoroughfare's long construction project came to an end, this modern eatery has managed to please critics all while remaining under the radar.
tagged: OPEN ON MONDAY
The Mood
I normally do not pry into the rationale behind restaurant names, but this one had me intrigued. It turns out the "chasse-galerie" is a flying canoe appearing in a Quebecois folk tale about a group of lumberjacks that cut a deal with the devil.
Failure to follow the latter's rule meant his possession of their souls; how somber, yet somehow fitting with the sub-basement, low-ceiling setting featuring dim lights and dark hues. It's not all grave though; the empty-ish dining room got busy later at night, at which point the music volume went up and switched to bass-y R&B tunes.
The Food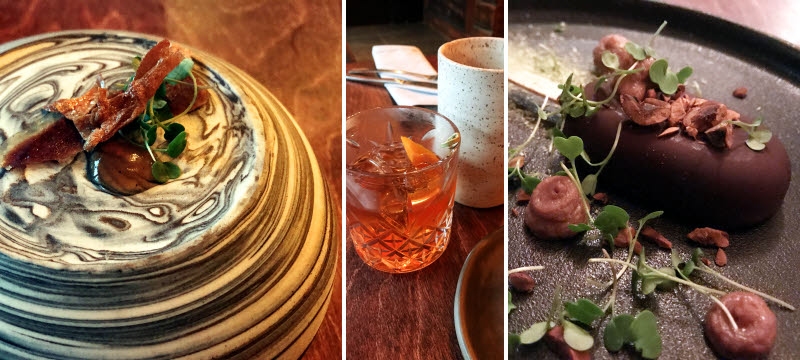 The Plateau tenant proposes a short menu of nouveau French/Quebecois creations showcasing local, seasonal ingredients. The lines are blurry between starters and mains, but all dishes are really tiny and quite pricey considering. Everything is soigné with lots of jellied, emulsified and powdered ingredients; all served in dramatic ceramic bowls.
Our meal was preceded by an amuse-bouche of duck prosciutto, dried scallop chip and black olive gelée. And as serious as it sounds so far, there is in fact a certain touch of playfulness: signature cocktails with whimsical names such as bien-être social, a couple orders in the shape of popsicles and even a bowl served upside down!
The Service
The staff tonight was attentive, knowledgeable and sharp; matching the kitchen's ingenuity and mastery. Our waiter – not the friendliest character but I'm not complaining – was adept at detailing the vague dish descriptions typical of nouvelle cuisine menus. We were also assisted on the wine-by-the-glass front with pretty good recommendations for pairings from a sommelier.
The Verdict
The two-year-old restaurant excels at juxtaposing sophisticated gastronomy against a laidback, unpretentious atmosphere. And while there is much to love about its food which is elaborate without being overly fussy, I was less taken by the peewee portions compared to the sticker price.
Not to sound cheap, but I cannot justify dishing out $100 for myself alone on food and two drinks only to walk out still hungry. With that being said, Chasse-Galerie is one step ahead of its mediocre neighbors across this stretch of Saint-Denis which has seen days both better and worse.
tagged: PLAN B.
Price per person: $37
Chasse-Galerie
4110 Saint Denis Street
H2W 2M5
514-419-9601
lechassegalerie.com