The Pitch
This review needs to start with a disclaimer, one which has nothing to do with a media event or comped meal. No, this one is about my relationship with wine. Although I do enjoy a good glass of vino, I confess I have an introductory and rudimentary knowledge of grapes, vintages and appellations, and more so when it comes to Quebec wines.
Today, I tried to expand my palette by visiting a local winery on this splendid pre-Labor Day Friday afternoon. Located forty minutes away from Montreal proper in Saint-Eustache in the Basses-Laurentides region, Le Vignoble Rivière du Chêne has been in operation since 1998 and houses a restaurant on site – why else would I be here?
tagged: TAKE THE CAR
The Mood
Following a pleasant stroll amid the rows of vines, we walked up the stairs leading to the bistro, whose balcony overlooks the vineyard and beyond. At around noontime, both exterior and interior spaces were near empty, meaning we got to pick our table.
Naturally, we chose the one with the best view and sun protection outside. However, we quickly had to move inside due to – you guessed it – pesky wasps. Within a half hour, no table was left vacant in the elegant dining room, thanks to a mixed crowd spanning all ages and including couples as well as larger groups.
The Food
The daytime menu goes down the bistronomie route, landing somewhere in between accessible and refined. Crowd pleasers such as Caesar salad, poutine, tartare, burger and gnocchi are given a local treatment via ingredients such as Le Troubadour cheese, Lac Brome duck and the estate's own mustard with its William Blanc wine.
For something more akin to apéro, mise-en-bouches such as olives and nuts are available, along with more elaborate platters of charcuteries and Quebec cheeses. Wine can be ordered by the bottle or the glass in addition to a well-priced découverte option. $19.50 will buy you three glasses of wine, with grape choices spanning both Le Vignoble Rivière du Chêne as well as its sister property La Cantina in Oka.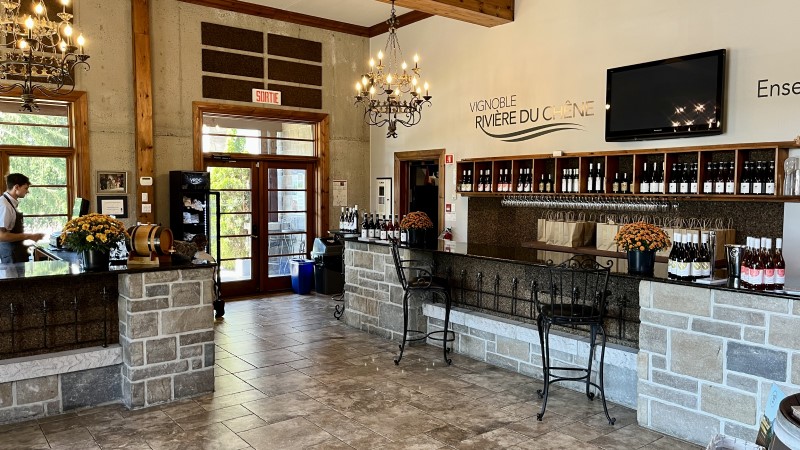 Diving into the food, the arancini had an extra-crispy bite and sat atop a zesty tomato sauce; but could have used a creamier stuffing. Next, the mesclun salad with croutons and feta cheese was basic and ordinary.
Moving on to main dishes, my beef tartare could have used less mustard and more oil; but did play nicely with texture thanks to crispy onion bits. Finally, my wife's burger was a delicious beast packed with a well-seasoned patty, thick-cut bacon and a nutty/buttery slab of aged cheddar. Both dishes were served with mesh baskets of thin, meaty fries.
The Service
Matching the space's refinement is an equally-polished service. Although casual in attire (t-shirt and jeans), waiters here are savvy and professional. Our requests to sit outside then move inside were not met with any resistance, even though we were warned of the swarm of hornets. Next, wine suggestions and pairings were expertly provided.
The Verdict
My first crack at homegrown enotourism was a resounding success. I cannot think of something better to do on a sunny Friday afternoon this close to Montreal while not in Montreal. After lunch, we visited the boutique downstairs for some bottles of wine while also perusing its selection of terrines, vinegars and chocolates, all from nearby producers.
Vineyard, boutique and bistro aside, other activities suggested at Le Vignoble include wine tasting by the vines, a picnic basket and grape harvesting. The restaurant is also open for dinner and brunch on weekends. So, there are plenty of ways to enjoy the estate; just remember everything shuts down in winter.
In closing, while I cannot say that everything sampled was tops from a gastronomic viewpoint; the total package was a beautiful thing to experience on a beautiful day – minus the wasps, but those come with the terroir.
tagged: SOLID
Price per person: $40